Goa is one of the prime beach destinations in India. The place has been centre of attraction across the country by all age groups. While now you are planning a trip to Goa you can't return back without tasting the mouth-watering street food snacks of Goa. From local delights to traditional Indian snacks and even international cuisine, you will find it all at carts and small eateries in Goa.
Best Street Food in Goa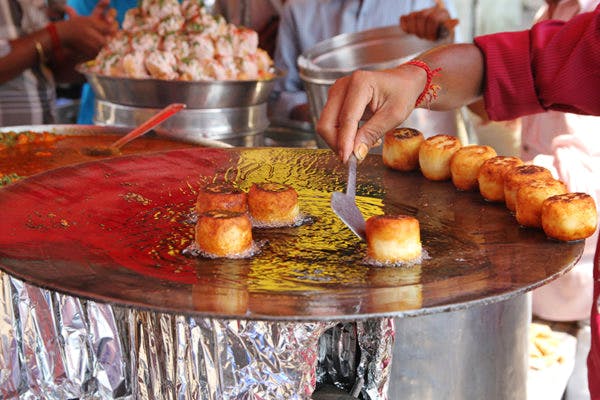 Goan Sweets
Well known Goan sweets are Boll, Bebinca, Dodol, Dosh, Perad and Baath Cake. All these variety of sweets have unique forms of coconut in common but are otherwise very distinct in their ingredients, process and taste. Dodol is soft, pudding-like dessert made using flour. Dosh is similar to coconut barfi, soft and tasty. Bebinca is a seven layered cake, traditionally baked in a stone oven, made using flour, egg yolks and coconut milk during Christmas.
RasOmelette
RasOmelette is a regular omelette served with some chicken curry which is full of spices. It is traditionally sold by food carts lined across the various towns of Goa.
FISH CURRY RICE
This is the traditional food for Goans served with steamed white rice. The aromatic and spicy dish can be cooked with different fishes. Due to chilies and turmeric it is yellow and reddish in color.
SORPOTEL
Pork Sorpotel is one of the most popular street foods in Goa, especially during the winter and Christmas season. Pork Sorpotel looks spicy and fried in vinegar. Sorpotel generally tastes better on the next day, after it is prepared, once it has had time to mature. You just can't go back without trying it.
Now knowing about the best street foods of Goa you should know about the best restaurants to visit in the city.
THE VERANDAH
The Verandah is located at Panjim Inn hotel with vintage and old charm setting. The place is famous for its seafood and continental delights. Even the Goan Portuguese desserts also add the reason to visit this place.
MUM'S KITCHEN
As the name suggests the place provides you with food like grandma and that is why you should go here for home taste. It is located in Panjim with an outdoor seating and has a welcoming vibe. Asian, European and American are the amazing cuisines that are available here. They also serve a host of fresh cocktails that use a unique and innovative mix of flavors.
Maracas
Maracas is located in Porvorim. The place is lovely with the black and white interiors with outside sitting too. It specializes in Tapas-style or small plate cuisine from around the world. It is also famous for its international cuisine.
Bhatti Village
The place is located in Nerul, run by a local couple. The feature that makes it distinct from any other restaurant in Goa is that there is no fix menu, instead it depends on the fresh catches of the day as well demand of the guests. Thus it is a truly exciting experience for the tourists and makes it a must visit.
Goa is a fun-filled destination for tourists and has a range of hotels within the budget of every individual seeking a great travel experience. So, pack your bags and enjoy your trip.